Many Catholics of a certain generation in historically Catholic countries like Ireland still remember the nightly ritual of the family rosary. Mother, father and children interrupted what they were doing, gathered in the living room and prayed their decades, often on their knees.
Today in Ireland, where the faith has been hit hard by revelations of clergy sex abuse, it is harder to find that kind of devotion. But Marian prayer may be experiencing a revival, part of a global trend of public gatherings to pray the Rosary.
In particular, since last autumn, recitations of the Rosary in public squares in major cities in Northern Ireland and the Republic of Ireland have attracted hundreds of people on the first Saturday of each month.
What is most surprising is not only that such public acts of prayer spring up where they are, but that they are organized and attended almost exclusively by men.
It's not just Ireland, however. There are more and more public gatherings for the Rosary, in the United States, Canada, United Kingdom, France, Italy, Croatia, Lebanon, India, Australia and elsewhere. Earlier this month, on February 5, a group of 25 to 30 men gathered in a public park in Austin, Texas, for the city's first "rosary rally." The men plan to continue to gather at a different location each month.
People who gather for these public Rosaries do so for a variety of intentions: protection of life and the traditional family, renewal of faith in increasingly secularized societies, healing of social divisions, and an end to the COVID-19 pandemic. 19.
According to several people Angelus spoke to, the trend started in Poland. Maciej Maleszyk, of the Piotra Skargi Institute in Warsaw, said the institute held a public rosary in 2009, as opposed to a "gay pride" parade in the Polish capital. Then, in 2017, to mark the 100th anniversary of the apparitions of the Virgin Mary at Fátima, the institute, affiliated with the conservative Tradition, Family and Property movement, once again organized public rosaries.
Some of the motivations for certain gatherings are not shared by all Catholics. A campaign, "Rosary at the Borders", was organized in Poland to pray for protection from what was seen as the spread of a militant brand of Islam as large waves of refugees from North and South Africa Middle East were fleeing to Europe, many fleeing war. in Syria and oppressive conditions in other countries.
But Maleszyk said he believes years of public prayer have yielded tangible results. He knows a man, for example, who used to make fun of the group praying in public, but now joined in praying the rosary in front of a hospital that performed abortions.
"At the institutional level, there were groups that prayed the Rosary in front of hospitals that performed abortions, and at least several of them stopped performing abortions," Maleszyk said. At an even higher level, he pointed out, Poland's highest court ruled last year that eugenic abortion is unconstitutional.
In response to what was happening in Poland during the centenary of Fatima, Father Marius O'Reilly, a priest from Cork, Ireland, assembled a team and launched a similar initiative, "Rosary on the Coast". People were encouraged to go to coastal areas, or if they were too far from the sea, to lakes or rivers, and, as it were, put the rosary around Ireland, pleading with God to protect the country from the forces of secularization.
Father O'Reilly, who now publishes a magazine called Totus Tuus, covering all sorts of rosary-related developments around the world, said that since "Rosary on the Coast", activities such as "Rosary at the Grottoes" at least of May and rosary-themed lectures have "inspired many people to start praying the rosary again in Ireland".
Then, last fall, Patrick McCrystal, director of Human Life International (HLI) in Ireland, inspired by photos on social media of hundreds of men in Poland praying the rosary in public, started a project called Men's Public Rosary. of Reparation and Repentance.
McCrystal discussed it with his HLI colleague, Owen Gallagher, and both agreed that they could "do something like this".
"One thing led to another, and we've run it for five dates in Northern Ireland, starting October 4," McCrystal said.
The initiative, he said, is in response to Our Lady of Fátima's request for the devotion of the first five Saturdays, in reparation for the insults and blasphemies against her Immaculate Heart. It has since spread throughout the island.
In a video, McCrystal said men pray in reparation for sins for which they are responsible as men, which he said helped bring Ireland to its current state, where the secularism prevails and where abortion and same-sex marriage have been legalized. . Specifically, McCrystal said, men atone for the sins of "abortion, contraception, all forms of impurity, reckless conduct, dishonesty, and deceit."
"One of my main comments to men last month was: 'If the men of Ireland took responsibility for the women in their lives in the first place, there would be no abortion crisis,' he said. told Angelus, "Abortion is in a sense a manifestation of men's irresponsibility. That's why only men can properly repair and repent. Women can't do it for us."
But, he added, "When people repent, God promises to heal our country."
The organizers believe that praying the Rosary in public makes it much more effective. Mary "communicated to St. Louis de Montfort that public prayer is far more powerful than private devotion," McCrystal said. "So we decided to get down on our knees and ask for God's mercy for all of Ireland."
Timothy P. O'Malley, director of education at the McGrath Institute for Church Life at the University of Notre Dame, said there is a long history of such public displays of devotion in the 'Church. But there is a risk, he believes, when they are seen as more political than prayerful.
"Prayer and political protests have been linked in the past, like the Solidarity Movement in Poland," he said. "The dimensions of prayer cannot be exceeded by protest." While praying the rosary is good, he said, these groups should "reflect on what distinguishes their practice from a typical mundane manifestation. When does prayer cease to be prayer and begin to be protest more than prayer?
It is important to remember, he said, that the Church teaches that prayer and worship are first for the glorification of God and second for the sanctification of men and women.
"You can go wrong if you start with the sanctification of the world, either politically or if you forget that your first object of prayer is the glorification of God," he said.
Here in the United States, Enrique Suarez has also noticed on social media the impressive gatherings in places like Poland and Ireland. He spoke with Angelus just after the first Rosary gathering in Austin, Texas, on Feb. 5, at a park near the capital's downtown core.
"I was following pictures of other men's rosaries around the world," said Suarez, a Mexican native who lived in Austin for a few years. "There was an invitation to start a local band, and I said 'Why not?' "
He contacted Owen Gallagher in Ireland, who advised him on how to choose a venue, invite people and promote the event. Next month, the men plan to pray outside Austin City Hall.
"Part of our problem in society is that men don't pay attention to their prayer life or their involvement in church activities or spiritual life," said Suarez, a Maronite Christian. "We try to emphasize the importance of the domestic church.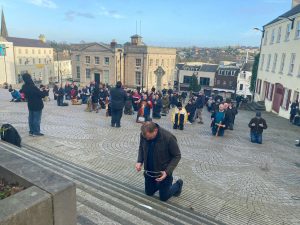 Along with the rise of male public Rosaries, there has been a parallel movement to get people – men and women together – to pray the Rosary in public places on Wednesday evenings. The initiative, launched during the pandemic confinement by a wine merchant in Austria, is organized in different countries via the Telegram mobile application.
"Darkness envelops humanity on many levels – mainly confusion over faith and all the mistakes, sins committed," Chikhani said in an interview from Beirut. "Christians have no idea of ​​their faith. We don't judge, but it's just a fact. They do not know the way to salvation.
In Lebanon, which has the highest proportion of Christians in the Middle East, there are now around 100 places where the Wednesday Rosary is prayed, usually outside people's homes rather than in a public space like a park. With an image of the Blessed Virgin Mary mounted in front of them, even a small gathering reciting the prayer on their knees can have a big impact, said Chikhani, a Melkite Catholic. "It is an effective tool for evangelization.
Chikhani said that when he did this in front of his own house, passers-by would join in praying with them. He sees the rosaries as an opportunity to be "fishers of men through our rosaries and penance", and that people who undertake the public rosary "go the extra mile to live the faith, to offer reparation".
"It's not just the 'Nice faith'," he said. "We offer reparation for the salvation of souls. That's the point.